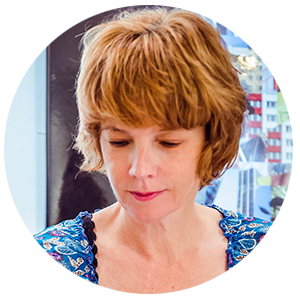 My story as an artist started in London, where I was born and raised. After studying textile design and working as a designer in a variety of companies in Hong Kong and UK, I decided to travel and explore the world.
My travels led me to many different destinations, experiencing so many wonderful cultures and ways of life. I had a wandering soul and marvelled at life with all it's endless opportunities. As all chapters end to make space for new ones, my journey as a world traveler came to it's end when I visited Crete: the most beautiful island in the Mediterranean. I instantly fell in love with the peaceful surroundings and warm-hearted people. And the rest is history…
I have been living in Crete for the last 30 years, where my time is spent running a touristic apparel business and creating mosaics. Art and design are embedded into my life to such an extent that I am always imagining new projects and creative possibilities. I live for bringing colour into the world and am most happy when I see people feeling joy from my work. I get inspired by my surroundings and by people everyday.
Every project I take on is designed with love and created with passion, while working with a team of wonderful people I call my friends. Large scale mosaic works take up a large amount of time and dedication; I feel very lucky to spend this time in my workshop alongside people who are eager to learn and help bring my vision to life.
My future plan is to bring more and more colourful mosaic art into life. This world always has space for more colour, playfulness and joy!